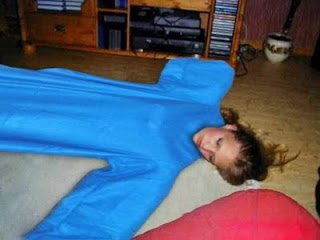 Martinsville, Ind. -– Patricia Conway, 48, was found dead in her home on Friday morning. Her paperboy noticed she hadn't collected her newspapers in two weeks and called police.
Officer Judd Meeks was first to report to the scene. He told a group of reporters that she appears to have died from acute Snuggie asphyxiation. Though the police investigation is complete, some details remain a mystery.
"From what I can tell the victim was trying to keep totally warm while using the freedom of her hands. Probably trying to work the remote, read a book in total warmth and comfort, or enjoy her leftover bucket of chicken while staying snuggly warm," he told a crowd of onlookers outside the residence.
Meeks was reluctant to speculate how she became trapped in her Snuggie, but noted that there were no signs of foul play. "She probably panicked when her left arm-hole became tangled, denying her limbs freedom to the outside world. I suspect she suffered a massive freak-out while reaching for the chicken."
Police could not determine time of death because the body was still incredibly cozy and warm.
A Danielle Steel novel was found on the floor near the body, but the super-slim, totally portable book light has yet to be found.
Story by Nathan Hurst