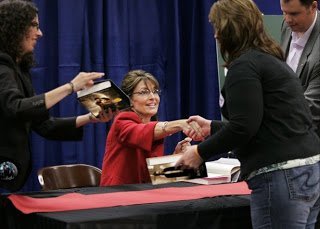 NOBLESVILLE, Ind. --The line for today's Sarah Palin book signing event wrapped around an incredible seventeen city blocks. Hundreds of teenage girls in costume giggled with excitement. Mothers and daughters huddled together in the cold and drizzle patiently all afternoon only to be disappointed by the sight of the former Republican Vice Presidential nominee. They were among the thousands who mistook the long line for the midnight showing of

Twilight New Moon.




"I was sooo excited," said Kaitlyn Sherman of Noblesville High School. "I thought the line was moving awfully quickly. I mean, doesn't a midnight show start after dark?"


Though the crowd was confused and disoriented once they got to the front of the line, Palin didn't seem to notice. She signed scores of Robert Pattinson and Kristen Stewart posters and generously answered several questions about vampires, werewolves and forbidden love. But, most in the crowd were infuriated over the mix-up.


"I came here to see hot guys, you know? I want to see shirtless werewolves, not watch them get shot from a helicopter," said Catelyn Jackson, a senior at Hamilton Southeastern High School, who skipped a campus visit to Taylor University to attend the event. "I think she already saw the movie. I don't know who this Levi guy is, though. I hope she's not ruining the ending for me."


Perhaps the last girl through the line, Caitlin Rogers of Cathedral High School, summed up the confusing day the best. "Who the hell is this woman, and why would anyone stand in line to see her when Twilight is playing?"