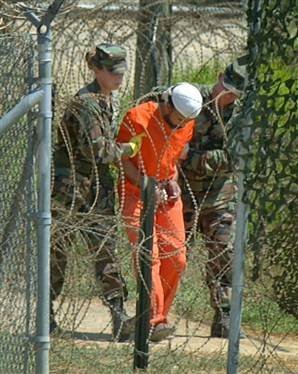 WASHINGTON D.C. -- When Atty. Gen. Eric Holder announced last week that the architects of the 9/11 terrorist attacks would be prosecuted in
Manhattan
, many House and Senate Republicans reiterated concerns over the transfer of the detainees from Guantanamo to U.S. soil.
In January of 2009, President promised the closure of the Guantanamo Bay detention camp within one year. As the anniversary of that promise edged closer, many in Washington had been up-in-arms over the destination of the country's most notorious detainees after the closure of Guantanamo Bay.
Speculation came to an end last Monday when Sec. of State Hillary Clinton announced that all of the prisoners in the camp would be transferred to an inactive British penal colony effective
December
1, 2009. The resolution passed the House and Senate early this week with an unprecedented unanimous vote. The decision sparked elation throughout the nation's capital. "Everyone seems to be happy with it," said Sen. Lawrence
Canspi
, "Except for Denny."
As the Ambassador of Australia to the U.S., Dennis Richardson is outraged by the decision. "I can't even believe they expect to just drop them off in Australia. Haven't they read books? We haven't been a penal colony since 1848," Richardson explained to The
Indianapoliser
. "I keep thinking this is a joke. How can they possibly pass a resolution like this without consulting my government?"
Despite Australian protests, plans to close the detention camp were already being implemented. "We started moving the low-level terrorists onto boats on Wednesday," said Sgt. Paul
Merckel
, Guantanamo Bay's Senior Interrogator. "They'll arrive in a few weeks in Sydney, where they'll be unloaded, unshackled, and forced to fend for themselves."
The Australian Governor General, Quentin Bryce, published a letter she sent to President Obama in USA Today this morning. "If a single terrorist from Afghanistan or Iraq is dropped off in our port cities and left, with no regard for the safety of my country, we will be forced to make a military decision to prevent further transports. If we need to prevent them through the use of force, the Australian Navy is prepared to do so. Please consider this a final warning," the letter reads.
The President avoided questions related to the publication of the letter at this morning's press briefing, but Sgt.
Merckel
confirms that two more transports left Guantanamo Bay this morning bound for Australia. "I don't know how this is going to turn out, but at least they're not here anymore," he said. "And good riddance."