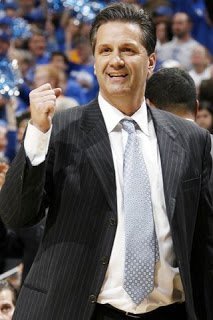 Lexington, Ky. -- Recruiting season in college athletics never seems to end for high-profile programs. This year's college basketball season is just beginning and Coach John Calipari of University of Kentucky has already landed several recruits for next year. The players that have committed to the Wildcats for next year are some of the best in the country. And Calipari's methods are drawing accolades from proponents and raising the eyebrows of other schools' administrators.
"It appears that the Kentucky Wildcat basketball program has approached Kobe Bryant to play ball for them next season," said Jerry Buss, owner of the Los Angeles Lakers. "I'm in the business of winning championships and this may keep Kobe fresh, so I'm all for it."
Buss said that Calipari targeted several NBA players during this recruiting season and has received verbal commitments from many, including Bryant. "Dwight Howard of the Orlando Magic, Lebron James of the Cleveland Cavaliers and Kevin Garnett of the Boston Celtics are all expected to start next year for Kentucky," he said during a press conference on Tueday. "I think it's a great way to keep these players on their toes. All of the coaches I talked to agreed to let them play college ball."
Calipari denies any wrongdoing and said he is "appalled" at the notion that his actions violate NCAA policies. "I don't see any problem here. These players have never played a single minute of college basketball. They all still have four years of eligibility."
He stressed the importance of an education over athletics and promises that the players will receive a first-class education in the event that professional basketball doesn't work out as a career choice. Many of the players have already declared General Studies as their major, and some, including Bryant, began taking courses this summer to catch up with their peers.
But Calipari is not without his detractors. Tom Crean, coach of Indiana University's basketball program, is crying foul. "This is insane. Surely he knows this is a blatant violation of the rules."
For now, Calipari is playing coy. Despite the fact that his new recruits are among the top paid professional athletes in the United States he denies knowledge of any breach of NCAA standards. "I am not aware that these young men may have been given gifts from a third party, but I can assure you we will conduct an internal investigation and once we are finished the NCAA will do their own investigation."
According to basketball analyst Dick Frampton, this recruiting class has the potential to compete for the SEC title. "Kobe Bryant averages about 28 points a game in the NBA, and that could easily equate to 18 to 20 a game at the college level," he wrote on his blog this week. "And I think this Lebron James kid will really push to start at point guard."
NCAA officials have yet to comment on the program's bold new tactic and calls to their offices in Indianapolis were not returned.
Story by Tom Ace