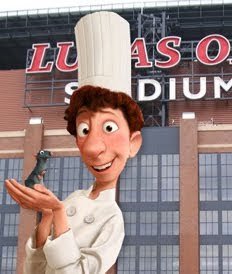 All breaded foods are deep-fried in Lucas Synthetic High Performance Motor Oil.
High food cost attributed to rare rat feces, actually imported from China.
Most food not digestible with a blood-alcohol content below .1 percent.
Marvin Harrison working as cashier at soda stand.
Stadium hot dogs are only 80 percent dog meat.
Walk-in freezers constructed from discarded Styrofoam coolers found in Blue Crew tailgate lot.
Nachos are not an authentic traditional Mexican dish.
Despite sales claims, Souvenir Cups do not hold their value over the long term.
High-priced food items intended to offset rodent extermination fees.
Edgerrin James hired to ride stationary bike, powering Lucas Oil Stadium roof-opening.
Most mice found in stadium are run-away souvenirs meant to come free with purchase of Colts' Super Blue Nachos.
Hand washing for food service employees is only politely suggested after bathroom breaks, not required.
Roll-out of new food item, Go Horse! Burger, postponed indefinitely.
UPDATE - Since our initial reporting the Indiapoliser staff has learned Lucas Oil is in the process of making serious improvements to the quality of their food preparation. Mouse toilets are currently being installed in each vendor station to prevent future feces contamination.
Reporting by Indianapoliser Investigative Action Squad