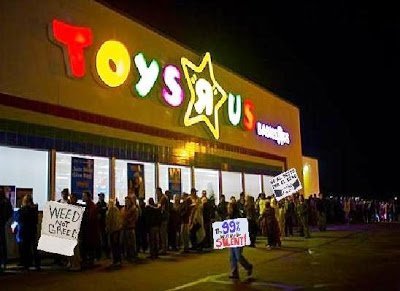 The Occupy movement has grown exponentially in the last 24 hours, expanding its reach to shopping centers across the nation. Several area malls have become occupied overnight.

Many occupiers had planned on demonstrating outside of shopping centers in hopes of disrupting normal Black Friday shopping activities. But a transformation happened once they assembled.

"What we have here is an equal distribution of savings," said occupier Rebecca Hephner. "Pepper spray couldn't keep me from this half price Keurig."

Fed up with the 1 percent, Hephner came downtown after spending Thanksgiving with her family. She wanted to participate in the growing movement and vowed not to support the crass commercialism that helps the One-Percenters boost profits, until she saw the Black Friday Special sale on jeans at Forever 21.

"75 percent off, are you kidding me?" stated a stunned Hephner "I'll make my voice heard later, wait til you see my poor ass in these!"

Similar instances have occurred across Central Indiana. Jeff Pikus intended to occupy in Greenwood.

"I showed up today to make my voice heard and fight against the unchecked derivative trading fueling irresponsible speculation on Wall Street." said a defiant Pikus. "But check out these insane, low, low prices on flat screen TVs! $100? I'll take three."

Other occupiers didn't allow the temporary deals to distract them. Sam Hawthorne used it as a tactic to fight back against the enemy.

"Those crooks on Wall Street should have taken advantage of the Doorbuster sale on Isotoners blowing up over here at JCPenney," stated a plotting Hawthorne. "Instead they decided to put their hands all over that filthy bail-out money. So guess what? I'm 99 percent sure their hands will all freeze this winter because I just bought all the Isotoners in Plainfield!"

Police have been called into several malls and used pepper spray to tame unruly, defiant shoppers in a few areas. Several middle-aged women turned on security at the Avon Target store. The guard inadvertently stepped in between the women and a display of Call of Duty: Modern Warfare 3. One mother of three, who was visibly hopped up on egg nog, had to be tased seven times after beating a man unconsious for not handing over the last American Girl doll.