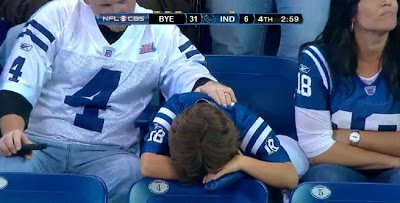 Not again.
The Indianapolis Colts lowered the bar again Sunday at Lucas Oil Stadium, when their desperate quest for the first victory of a difficult season was reduced to a more urgent and fundamental mission:
Correct those correctable errors.
The Colts managed 143 net yards and a couple Adam Vinatieri field goals while being shut down 31 - 6 by a team they should have easily beat. The Bye Week was previously winless all-time.
The Colts offense hasn't scored a touchdown in the past three games which is something they admit they need to refocus on.
"Typically you're looking to score touchdowns and we just haven't focused on doing that," conceded quarterback Curtis Painter. "We get so bogged down trying to work that huge list of correctable errors, coach and Dear Leader Polian talk about, we just forget how to play football."
Painter passed for 64 yards and 3 ints and was replaced by Dan Orlovsky who went for another 12 yards and an int. Orlovsky was then replaced by Pat McAfee who led the Colts on a game ending 10 play 55 yard drive for Vinateri's second field goal.
The Colts seem unable to stop the interception bug. Somehow, even guard Mike Tepper managed to throw one in the 2nd quarter. Painter has shown major signs of regression causing some to wonder if the Colts would make a permanent QB change.
Coach Jim Caldwell didn't sound like a man contemplating a more permanent change.
"I think this is certainly going to be one of those tough games to evaluate when you look at all of the things," Caldwell said. "Curtis probably didn't get as settled as we'd like, and we allowed pressure to get to him on just about every single play. Fortunately I think those are correctable errors so we'll keep at it and I know eventually it'll lead to a 'W'. As far as changing from Painter to Orlovsky or McAfee or Tepper, I'd say right now we're sticking with the guy that got us here."
Caldwell was asked if he could define the correctable errors and if the Colts had actually corrected any of them this season.
"I'd say right now we are evaluating those and don't want to divulge any intellectual property of the Colts to other teams. I can tell you we've incorporated Lean Six Sigma processes that have shown success in the automotive industry. That's led us to really come up with outside of the box type ideas, like where we decided to start punting on 3rd down. I really think strategies like that will keep our opponents on their toes and eventually pay off."
The Bye week (1-110) took advantage of six takeaways and repeated Colts mistakes. Bye Week ran 42 times for 235 yards and 3 touchdowns. Also Bye Week threw 21 - 23 for 312 yards and a touchdown with one interception.
"We won the turnover battle and ran much better than they were able to," Stated Bye Week. "Its always good to get a victory on the road against any opponent."
Typically the NFL does not count Bye week wins and losses towards a teams final win total. However they've decided this one will have to count. What this means is if the Colts continue to lose out, they will finish the season 0 - 17 rather than 0 - 16. After the game Bill Polian was quick to remind everyone that everything was under control.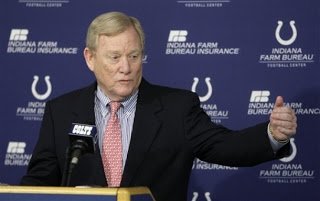 "Remember, you're never are as bad as you look when you lose and you're never as good as you look when you win," said a content Polian. "We just have to go back and work on correctable errors. I know Curtis threw a couple of interceptions today but really this is the first game where he's thrown multiple picks so that's not going to happen every time. Plus, you all have got to see him in practice. I mean, he's really the next Peyton Manning when we do 7 on 7 drills, nobody is allowed to hit him, and the opposing 7 players are just stationary tackling dummys."
Next week the Colts will take on Cam Newton and the Carolina Panthers.