Rain Dominates at 500 Practice
The Rain took advantage of long practice days to work all week, making the most of the final few minutes of Wednesday's session to prevent competition from entering the track in preparation for the next week's

Indianapolis

500

.

"We created a perfect environment today. We were able to execute our race setup and we are finding a good balance," said Team Rain Owner, the Lord, who has claimed three days of dominance in the first four days of the season. "At the end of day we trimmed out a bit and were fortunate enough to get a big NW wind at the right time. It was great to get on track and give all the fans something to see and maybe extended their noon-time beer drinking."
"Getting the drops right, getting the wind right, getting the Earth set up for the humidity, it's really a nightmare," said The Almighty of the work not yet done. "But we have to concentrate on qualifying now."

The Rain hopes to challenge history and show up for the 100th Anniversary race on May 27. The Rain had strong showings in 2007, 1997 and 1986.
HBO show 'Hard Knocks' coming to Indy

If there is an NFL training camp, the popular HBO show Hard Knocks plans to draw in millions of viewers once again by showcasing the Indianapolis Colts.

Hard Knocks producer Donald King explained his decision to feature the Colts. "We wanted to really build on the success that the Jets gave us last year. The Indianapolis Colts are a dynamic team and management there has laid out a few ground rules that are a bit different from the Jets, but we think it'll still be a great show."

The producers have been provided several rules to follow but still think they can piece together a compelling story of this team. The rules are as follows:



No practices are to be filmed, period. B-roll footage of fans dressed in Colts jerseys, running routes in the parking lot may be used.






Divulging the location of practices is prohibited. No filming of players arriving or leaving said location.





Filming of players standing in between practices is allowed but all players' faces must be blurred





All jersey numbers must be blurred out.





Any strategic conversation that happens to be filmed must be edited over with a Korean discussion on the benefits of baking vs. grilling.





All Hard Knock's employees are not allowed within 50 yards of Peyton Manning.




Peyton Manning may not be the focus of any

camera angle

.




Pat McAfee

and Pat Angerer will be made available to film when they head to the bars in Broad Ripple.



Should Peyton's wife and children arrive at the facility for a visit, all Hard Knocks crew members will be escorted off the premises immediately.

"With these simple rules in place I think it'll be a pretty good show," wrote Colts QB Peyton Manning, on a wadded up cocktail napkin from Rick's Boat Yard, which was hand delivered to the Indianapoliser with a return address of a P.O. box number that had been scratched beyond recognition. The delivery boy chewed a cyanide capsule and died two minutes after the note reached its final destination.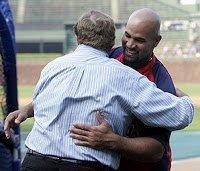 Cubs GM Jim Hendry puts out feelers
A warm embrace between Cubs GM Jim Hendry and Cardinals first baseman Albert Pujols garnered considerable media attention last week. Many believe the hug was an extension of Hendry's courtship of the soon to be free-agent.
Hendry's inappropriate touching, however, is nothing new when it comes to the pursuit of free-agents.

Over the winter Hendry was seen fondling Prince Fielder's ample bosom as he talked up the Cubs organization and the city of Chicago.

Many speculate Alfonso Soriano experienced a lack of speed when he received permanent damage to his lower extremities while negotiating with the Cubs. Hendry was seen administering continuous butt grabs to Soriano during talks.

Both Hendry and Pujols insist the hug was nothing but a greeting between really truly extremely good friends.

Reporting by C. Bommarito, Dudley Dawson & Hate Nurst