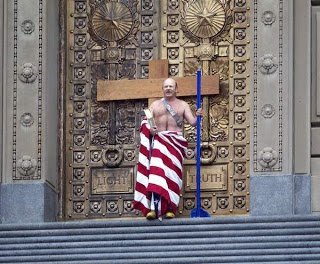 An unknown, but clearly crazy-ass man, stormed the Indiana War Memorial and started a stand off with police this afternoon. Pridefully brandishing his modestly hairy, bare chest, draped in Old Glory, the man appeared to be holding a Festivus Pole. One could only speculate he was demanding the holiday be given equal status to Christmas and whatever other fake holidays people celebrate.
Festivus, a holiday that discriminates against no man, is observed on December 23. The holiday is celebrated with the Festivus Pole, an aluminum rod with no decoration. Airing of Grievances and the Feats of Strength are also traditions practiced during Festivus. Clearly a holiday.
The crazy-ass man, standing with what looked like a large plus sign behind him, was lashing out at passers-by for the less-than-stellar year he had. Many ignored his foul-mouthed tirade until he started flinging his own feces. IMPD quickly intervened and subdued the man. The Festivus loyalist put up a brief fight, but there was no Festivus miracle this day. In total the standoff lasted two hours.
Story by C. Bommarito