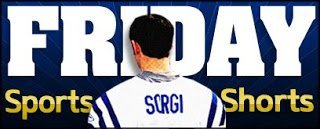 Winter Olympics Roundup
To save you the torture of actually watching the Winter Olympics,
The Indianapoliser
has condensed the week's top stories into bite-sized nuggets for your reading pleasure:
American skater, Evan Lysacek,
won the gold medal in men's figure skating Thursday, beating out Russian rival Evgeni Plushenko. Three Eastern European skaters were ejected from competition after testing positive for illegal amounts of sequins.
"Comedian" Carrot Top
is reported to be enjoying a great deal of fame from being mistaken for gold medal winning snowboarder Shaun White. "Man, if I could afford the bus ticket, I'd be on my way to Vancouver right now," he excitedly said to himself, while sitting alone in his bleak studio apartment.
Lindsey Vonn
won a gold medal in the Women's Downhill Skiing and received a bronze in Overall Hotness, a category traditionally dominated by U.S. snowboarders.
On a sad note,
Olympic athletes aren't immune from the struggling U.S. economy; Cash 4 Gold reported a "huge spike" in Olympic gold medal purchases this week.
Media Outlets Scramble for Sad-faced Tiger Woods Images
Today's Tiger Woods press conference sent photo editors of various news and media conglomerates into a frenzy with little time to spare. Professionals from across the world are scouring the AP photo archives for still images of Tiger with a sad, distraught or pensive gaze.
"Tiger is obviously an emotional wreck. Just look at him in this photo after missing the putt on the 9th hole. He's probably thinking of suicide," assumed CNN's Chief Tiger Woods photo editor, Gary Pelty. "The problem is we need 50 more of these to run in a loop over our weeklong coverage of this press conference! How are we going to dissect what he said without running sad Tiger photos over and over again?"
Theme Cars Intrigue Racing Community
Last week the IRL introduced one of the new designs for the future of open wheeled racing. The Batmobile-inspired 'Delta Wing' concept car is still in development and not due for release until 2012 season. But, IRL representatives believe this and other new concept cars will bolster open wheel racing.
'Theme Cars' will be paired to each driver's unique qualities. For example, Tony Kanaan will drive the 'Wolverine' allowing his car to regenerate once he inevitably crashes. Danica Patrick will drive the 'Sissy Spacek/Carrie' car, while the less bitchy Milka Duno will drive the 'Wonder Woman'. The 'Invisible Man" car will be driven by Oriol Servia since nobody really knows who he is. Sarah Fisher will drive the 'Cyanide' car further enhancing her vehicle's ability to self-destruct. Helio Castroneves has opted for the 'Al Capone' car to aid his tax evasion ability.
Osceola Grocery Bagger Grabs Championship
Kyle Perry, an Osceola, Ind. Martin's Supermarket bag boy, won the World Grocery Bagger National Championship (WBGNC) in Las Vegas last week. Kyle was content to win the honor of best bagger, but there seems to be some discontent in his demeanor.
"I put in a lot of hours at the weight room and the end of the checkout line to get to this point in my career," he said. "But, I wish I was bagging other things at this point in my life, like girls for instance. I've been practicing baggin' chicks just as long as I've been bagging groceries."
Kyle considered putting some of his winnings towards a visit to the nearby Bunny Ranch, but quickly changed his mind, "that would be a disservice to my bagging hand."
Reporting by C. Bommarito, Dudley Dawson & Hate Nurst