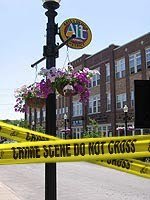 INDIANAPOLIS, IN -- Upset Carmel is attempting to steal away Indianapolis' fine arts with the construction and opening of the Palladium, Mayor Ballard has vowed to stop all commerce between the two cities.
Ballard, and his corps of engineers will close all main arteries between the two cities. The formerly covert project has already begun with the closing of the bridge over I-465 at 96th and Rangeline Road this month. The second dagger was the closing of the bridge over 465 on River Road. To further complicate matters, Ballard has also restricted traffic at Keystone Ave. and I-465.
"This should send a clear message to Carmel that if they want to play hardball, two can play that game," said Ballard recently.
The Palladium, Brainard's edifice to himself, is set to open in January 2011. In theory, this will be a state-of-the-art concert venue that will host the world's best musicians. "If nobody can get to it except those poor people living in Carmel, then I'm okay with that," said Mayor Ballard.
The plan is simple - keep the Carmelites (pronounced Carr-
mel
-lites) pissed off by making travel impossible. The backlash from these closings will make the residents question Carmel mayor Jim Brainard's sanity and ability to make sound decisions. "I think we've got him this time," an aide to Ballard was quoted as saying.
"Indy is tired of being treated like a bastard child," said Ballard. "We have stuff to do already here. There's no need to visit the lame water park or bike to Bub's on the Monon Trail. Hell, we have a Ben and Jerry's along the Monon where you won't even get shot at - in the daytime at least. Now that's something!"
The two mayors met recently to discuss the issues the closings have created for Carmel residents. But the only thing the two could agree on was the fact their last names both began with a B.
The meeting proved to be little more than a roundabout in futility.
Story by Frank Bivoac