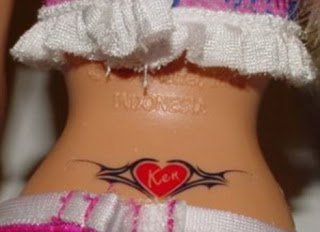 EL SEGUNDO, CA -- Mattel is set to release a an updated Barbie early next month. The move is part of a new trend the toy manufacturer has taken to adapt and develop toys for the 21st Century.
"This Barbie will appeal to a hipper generation of young girls," said Brian Mead, the slightly lispy editor of
Toy Insider
magazine. "She'll be dressed to the nines, sexier than ever, and a real whore for the younger, Cub Ken currently still in development."
Cougar Barbie will be fit with several outfit upgrades. Among them will be her low cut dress, high hem line, stiletto heels for Club Cougar Barbie and tight fitting camisole and low rise mini skirt complete with fuck-me-boots for Out & About Cougar Barbie. Both will come with tattoo decals to be placed on Barbie's lower back. And neither model is equipped with under garments.
Little Suzie Baker was one of the first to be introduced to Cougar Barbie through a test market group. "OMG! Cougar Barbie is such a slut! I love her! My mom was like, 'Suzie, I think you're a little young for Cougar Barbie,' but I was like, 'STFU Mom!' Gosh!" When asked if Cougar Barbie was missing anything, little Suzie interrupted, "Stop. So boring. I'd like to see more Botox on her forehead, but I totally worship her surgically enhanced DSLs! I don't know what DSLs are but my brother Tommy says Ms. Timber, our music teacher, has a great pair."
Cougar Barbie is due to hit the shelves in late March or early April to coincide with spring break season. The first wave of toys will contain 20 percent more plastic than regular Barbies, each comes complete with an over-sized appletini and will be encased in an easy accessible, gigantic leather box.
Story by Hate Nurst