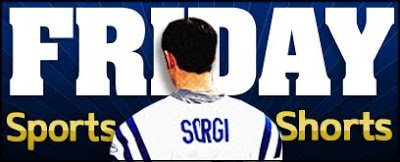 Pacers really pulling for Colts
Millions of Colts fans are gearing up for Super Bowl XLIV in Miami this weekend. Many area fans are thankful to have such positive representation for the city of Indianapolis, but none more than the Indiana Pacers.
"We wanted fans to take notice of our relatively fast start, but now we're happy nobody's watching," says Pacers General Manager David Morway. "With the Colts doing so well, I'll bet half the city doesn't even know our starting lineup and, for now, that's just fine by us."
The Pacers, a team with playoff aspirations, are thankful nobody in Indy has noticed their fall in the standings. Normally this kind of consistent losing would garner a great deal of attention, but with the Colts in the Super Bowl, the
Indianapolis Star
barely prints their box scores.
"Oh shit! They played this week too, didn't they?" Asked
Indianapolis Star
Columnist Mike Wells. "Heck, I was blogging on Stampedeblue.com about the Colts all night."
The team has made a concerted effort to encourage their fans to find better entertainment this season. Next week the real challenge begins.
"Hopefully there will be more distractions. If we're real lucky a local athlete will get arrested for something. Something big! I'm not saying anything, but IMPD may want to search Dallas Clark's car next week," Morway added, laughing maniacally.
Even More Clint Session Fun Facts
The devil sold

his

soul to Clint Session.
Clint Session can smell fear, like a skank can smell Axe body spray.
Clint Session is the nation's leading cause of pain-killer addition.
There are two types of outside linebackers in the NFL. Ones who suck and Clint Session.
It's always sunny wherever Clint Session goes, because the sun never sets on a baddass.
Clint Session can believe it's butter. Always has.
Clint Session doesn't drive a car. He just sprints to where he wants to go and gets there in half the time.
Clint Session is so cool he has his own theme music that follows him around, performed live by the Wu Tang Clan - including ODB!
Some regret that they have but one life to give to their country. Clint Session has ten lives and regrets nothing.
Reporter can't stop staring at Drew Brees' birthmark
Drew Brees cut off an awkward Q&A session during Media Day on Tuesday. Norm Neely, a sports beat writer from Bruce Hills, Mich., could't stop himself from staring at the birthmark on the quaterback's right cheek. Brees tried to be polite about the uncomfortable exchange, but the reporter's questions grew increasingly embarrassing:
"What can you tell us about the health of All-Pro left freckle, Jammal Brown?"
"Drew, do you care to talk about the mole you've played in rebuilding New Orleans after Katrina"
"During practice you mentioned being a little off the birthmark, is that just pre-game jitters or something larger?"
"One last question Drew, will your vision be hampered by that huge stain on your cheek, or is it sorta like a second brain that keeps your thought process two steps ahead of everyone else on the playing field?"
Reporting by C. Bommarito, Dudley Dawson and Hate Nurst