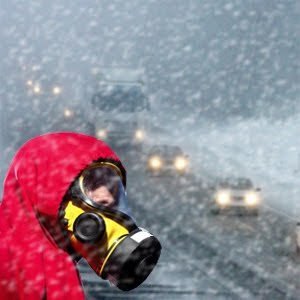 GREENWOOD, IN – Greenwood is taking drastic measures to cope with the ongoing snow catastrophe that has plagued our region for the better part of a week.
"The days of ice and snow related delays and inconveniences are over," said Greenwood official Ken Wintersby. "With this Federal stimulus money we're implementing the very best in snow and ice removal practices. Bring it on, Mother Nature! We've got the equipment to fight back."
Wintersby announced Greenwood chose to purchase sugar and cinnamon this year instead of restocking the winter salt and sand levels.
"Sugar and cinnamon were going for half the price of industrial snow melting salt and sand," said Wintersby, at a press conference early this morning. "We just couldn't resist the savings. Salt and sugar are the same color so we expected them to perform the same. Plus, cinnamon kind of looks like sand so the assumption here is that it will hold the same traction."
The reaction to this plan of attack has been mixed. Many applaud the city for its out-of-the-box approach.
"Snow fall increases about 98 percent during the winter as opposed to the summer, fall and spring months." estimated Brenda Mallard, local soccer mom. "I'm relieved Greenwood is finally making headway in the war against snowfall. We can't use traditional methods anymore."
When asked if she thought rush hour commutes improved this year over previous snow pandemic months, Mallard responded, "I'm not really sure. The enormity of my Chevy Suburban keeps me oblivious to the outside commuters. I've got tons of other shit I need to worry about while I'm driving. Eyeliner being one."
City officials are also encouraging Greenwood residents to take extreme measures to prevent snow-related injuries and disease by reminding citizens to wash their hands, use tons of hand sanitizer, and avoid contact with anyone who has been in a car accident caused by snowfall.
"It's also important to prevent snow from entering through the genitals," added Wintersby. "There are several ways of doing this, but abstaining from wintry activities is the only sure-fire way to stay safe."
Story by Dudley Dawson & Hate Nurst