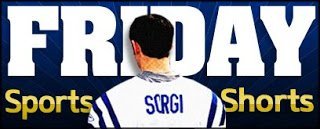 Obituary
Purdue University Final Four Hopes
Purdue University's 2010 Final Four Hopes passed away Wednesday February 24, 2010 in Minneapolis, Minnesota. The Final Four Hopes were almost three years old. Purdue held the Big 10 Conference lead with 3 games left in the regular season and was ranked 3rd nationally. Accomplishments include: a 24-3 record, Virgin Islands Invitational Championship, four wins against top ten-ranked opponents, road wins at Ohio State University, Michigan State University, University of Illinois, and Indiana University. Purdue's Final Four Hopes are survived by the Final Four Hopes of Wisconsin, Ohio State, and Michigan State. Final Four Hopes for Michigan, Iowa, Indiana, Northwestern, Minnesota and Penn State passed earlier this basketball season. A memorial service will be held at Harry's Chocolate Shop on Selection Sunday March 14, 6:00 P.M.
Ed note: This is the 30 year anniversary of the Miracle on Ice. Purdue fans, do you still believe in miracles?
NFL Combine comes to town
Once again the NFL scouting combine has donned its presence on the City of Indianapolis. Hundreds of potential NFL draft picks will be poked, prodded, ground up into tiny chunks, reduced to a pulp, mashed back together, kneaded and finally cooked until they meet a certain teams preference. Beef that does not attain grade "A" quality will be discarded and re-circulated back into the general population. But before any of that happens the State Board of Health has been called to Lucas Oil Stadium to inspect the mass quantities of beef for traces of rat feces.
Pacers Sign Local Athletes
The Indiana Pacers have struggled to put the fire back in their offense since trading the rambunctious Ron-Ron Artest, Jamaal Tinsley and Stephen Jackson. Fans worried when the Pacers let the NBA trade deadline pass without making significant changes last week, but team officials believe they have found answers in nearby Carmel.
Several Carmel High School basketball players were disciplined this week for a "bullying incident'' involving and two freshmen during a bus ride from Terre Haute on Jan. 22. The Pacers jumped on the opportunity to sign these athletes to multi-year deals. The team credited towel boy Josh McRoberts for his scouting work at CHS.
Changes Coming to the 2014 Winter Olympics
Yesterday the International Olympic Committee announced several event changes for the 2014 Sochi Russia Winter Olympics.
Instead of skiing and jumping on separate occasions, participants of the Nordic Combined event will perform ski jumps while traveling the 10 km course, target shooting between jumps.
Another controversial change is the addition of a 40 ft. jump to the Skeleton event. Participants will complete a jump at 80 MPH land back on the track, and continue down to the finish line.
Ice Dancing will also be combined with the obscure Canadian sport, "Hockey."
Reporting by C. Bommarito, Dudley Dawson & Hate Nurst