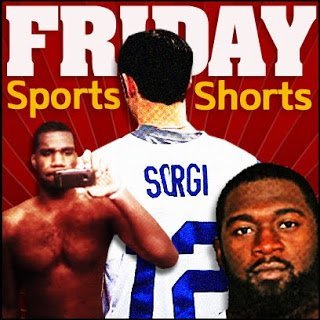 Oden shows off impressive low post game
Huge basketball star and Lawrence North alum Greg Oden apologized to fans this week for inappropriate pictures that popped up on the Internet. In a long statement, the giant said he regretted taking the photos of himself, saying it was "an enormous error, a really, really big, gigantic mistake."
Some speculated the photos were used in "sext messages" sent to admiring female fans. But Oden admitted they were actually sent to opposing players in an effort to intimidate them before big games.
Area Golf Courses fear a bleak 2011
Many Indy golf courses were upset to learn Congressman Steve Buyer will not seek another term in office. Without his "scholarship" fundraising, many area courses will see a severe dip in business. Fortunately, no students will lose funding for school, since Rep. Buyer never awarded a scholarship despite his tremendous fundraising.
More Clint Session Fun Facts
Chuck Norris had to get Clint Session's permission to grow a beard.
Clint Session didn't cut his dreads, he stopped them short of gaining yardage.
During college Clint Session played every defensive position on the field… at the same time!
Behind every successful man there's a woman. Behind every unconscious running back there's Clint Session.
Staring directly at Clint Session for too long can lead to false starts, blood loss and early death in certain situations.
Scientists renamed the

Speed of Sound

the

Speed of Clint Session

.
Clint Session can injure quarterbacks by just watching them on TV. The Colts don't allow him to watch film of Peyton.
If Ray Lewis has ten tackles and Clint Session has ten tackles, Clint Session has more tackles.
New Pro Bowl schedule affects local losers
Sunday's Pro Bowl roster was finalized this week. This relieved local sports bookies and degenerate gamblers alike. The line currently has the NFC favored by 4. Area bookie Frank Encarnado said business has never been better.
"My Pro Bowl gamblers are the real deal," Encarnado said. "These are the guys betting on Olympic figure skating once football is over."
Hardcore gamblers aren't the only group affected by the new Pro Bowl setup. It has wreaked havoc on the fantasy Pro Bowl leagues too.
"Our draft was the week before the championship games," says Brady McNeil, local fantasy football nerd. "I took Manning in the first round. Now I get the option to replace him with David fucking Garrard. Thanks NFL!"
Life in the slow lane
Former Indianapolis Motor Speedway and Indy Racing League CEO Tony George announced his team, Vision Racing, is officially shutting down operations. It's been a rough year for George, who was ousted as CEO by his own family in 2009. Not only will this make for a chilly Thanksgiving this year, but it appears he'll need a ride just to get there.
Jets use wrong formula against Colts in AFC title game
The New York Jets came to Indianapolis with what they believed was the winning formula last week. The team expressed extremely high confidence in their game plan and confidently set up their schedule for Super Bowl week. The Jets, who were considered the Team of Destiny, hoped to beat down a soft Colts team.
"We really thought our strategy from our first game would win again," said Jets coach Rex Ryan. "We were certain the Colts would pull their starters once they got a lead. We just waited for that opportunity to pounce. Things didn't work out, but know this; we would have rolled all over Kurtis Painter's offense."
Such bluster should be expected from professional athletes competing on the highest level. However, three of five ESPN expert analysts were also proved wrong last Sunday.
"The Colts are the worst 15-2 team in history," said moron Keyshawn Johnson, fourth-rated receiver in his draft class. "Not only will Darrel Revis shut down the Colts passing game but Dwight Lowry is going to step it up."
"The Colts have been too soft in the playoffs," said mustached former NFL coach Mike Ditka, .500 lifetime playoff record.
"You have to play with the heart of a champion like I did," said Cris Carter, who never played in a Super Bowl. He continued "J-E-T-S, Jets, Jets, Jets!"
Reporting by C. Bommarito and Dudley Dawson