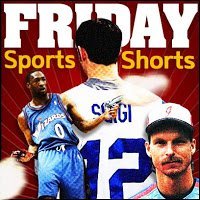 Colts will continue resting starters
In a press conference late Thursday afternoon the Indianapolis Colts announced they will continue resting their starting position players during next Saturday evening's playoff game. Team President Bill Polian defiantly defended his decision when asked about this baffling strategy.
"We have no interest in winning the first two games of the playoffs. That's someone else's goal," he said. "We've had one goal all year and that's to win the Super Bowl. We'll continue to rest our starting players until then, so they will be as fresh as possible for the big game."
Indianapolis Indians celebrate their Big Unit; plan to stick Johnson in Hall of Fame
Randy Johnson, one of the most accomplished players to climb the ranks through the Indians organization, announced his retirement from Major League Baseball this week. His two-year stint with the Tribe (1988-89) helped propel the Indians during some of the best years in team history, each ended in an American Association AAA championship.
Some believe the Big Unit's size coupled with his biting slider were his greatest assets. But baseball insiders claim his mustache and mullet combo was the real key to his success.
"It was intimidating as hell to see that greased 'Nashville Neckwarmer' and powerful 'stache framing an intense glare that seemed to scream 'you been messing with my truck, son?" said former Indians teammate and adversary Larry Walker.
Johnson's mustache and mullet will fly back to Indy next week to be inducted into the Indians Hall of Fame. The duo will join Razor Shines' Jheri Curl mullet enshrined in 1998. The mullet and 'stache will also receive matching commemorative 1986 IROC-Z Trans Ams.
Gilbert Arenas redefines shooting guard
Last week Washington Wizards star, Gilbert Arenas pulled out a handgun during an alleged confrontation with teammate Javaris Crittenton. Team executives discovered Arenas had been storing handguns inside his locker for an upcoming Washington Bullets throwback game. NBA league officials suspended Arenas indefinitely Wednesday afternoon. However, the National Rifle Association has stepped in on behalf of the beleaguered guard.
"As a citizen, Gilbert Arenas has every right to keep a firearm in his locker," says NRA Athletics Division Chief Dan Tucker. "If all NBA players carried guns on the court for self-defense many players would think twice before committing dangerous flagrant fouls."
This revelation is the latest in a string of eyebrow raising NBA locker room occurrences. Two months ago Ron Artest revealed he kept alcohol in the team clubhouse. Chris Weber recently admitted to growing marijuana in his locker. Last year former NBA forward Shawn Kemp fessed up to storing hookers in his locker during most away games throughout his career. Even the legendary Charles Barkley came forward this week admitting he frequently hid entire roasted pigs in his locker to snack on during halftime.
Purdue ties two school records
Tuesday evening the Purdue Boilermakers men's basketball team beat the Minnesota Golden Gophers 79–60. This win put the red hot Boilers' record at 14-0, tying their all-time best start, set in the 1993-94 season. They have also already tied their record for NCAA Tournament championships this season with zero.
Tide rip through Longhorns on their way to title
Dark Lord, Nick Saban called upon the ghouls of Alabama pasts to exact revenge on the Texas Longhorns for the multiple beatings they received earlier in the century. On the Longhorn's first drive of the game Colt McCoy tried to run the ball on a first down play when he was suddenly met by the ghost of Bear Bryant. The Alabama icon then ripped McCoy's shoulder clean off his torso making him ineffective for the rest of the game. Alabama went on to their 47th National Title.
After the game McCoy recalled his injury, "Once I saw the ball lying on the ground about 5 yards away, I knew it would be hard to recover. When I realized my hand was still clutching that ball, I figured my day was probably over."
Saban celebrated the win by removing the heads of three Alabama players who dumped Gatorade on him with less then a minute to go in the game.
Reporting by C. Bommarito, Dudley Dawson and Hate Nurst