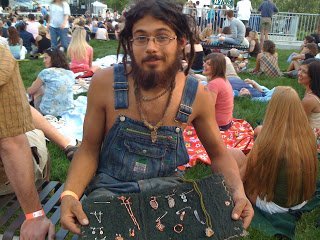 CARMEL, IN - After a grueling two-hour soccer practice, Nick Cummings came home and shoveled the driveway before eating dinner with his parents. Afterward, he went to his room and studied calculus for a while before walking his dog, Petey, and going to bed around 10 p.m. Then, as you might have guessed, he got up really early the next morning and arrived at school on time like the little fucking goody-goody he is.
This may not have been the case just a few short years ago. A seemingly cool kid, like Nick, probably would have blown off soccer practice, fed his parents some horseshit lie about a French Club meeting, and hit the bong with his boys for two or three hours after school.
"Sure, I'd like to be getting high and wasting a little more time," says Nick. "But, seriously what are we going to do? Hang out in Cody's garage and rock out to Nickelback?"
Nick is not alone. According to a study released in December's
Archives of Pediatrics, Golf & Adolescent Medicine
, teen marijuana use is down in the United States and throughout the world. Experts cite many different reasons for the drop, but all point to a steady decline of the popularity of jam bands.
With the bullshit on today's radio it is no wonder floppy-haired dorks like Nick are wasting their adolescence studying for the SAT and volunteering for community service programs - a pastime previously reserved for stoner teens fulfilling court orders. If this trend continues, today's adolescents will grow-up closer to
High School Musical
than
Fast Times at Ridgemont High.
Throughout the 1990s stoner culture thrived in the United States. The Grateful Dead enjoyed a resurgence after the death of frontman Jerry Garcia. This exposed a new generation of slackers and future gas station employees to great drug terminology and a host of endlessly touring progressive rock acts such as Phish, Dispatch, Leftover Salmon, String Cheese Incident and Disco Biscuits.
"Man, when jam bands and tie-dyed shirts were more popular, we did killer business, man," says Larry, owner of 420 Junction Tobacco and Olde Tymie Pipe Shoppe in Westfield. "Most popular songs only last three or four minutes nowadays. Man, that's hardly enough time to realize a song is even playing if you're having a good bake, man." He continued, "when jam bands and tie-dyed shirts were more popular, we did killer business, man!"
Pipe store owners, like Larry, are pinning their hopes on a resurgence of the psuedo-hippy culture after last summer's Phish reunion tour. A heavy-hitter like Phish could also generate interest in some lesser-known bands still desperately clinging to their early success. But, it may take some work for them to win over new fans.
"I guess Rusted Root is still around. But, I'm not going to the Emerson Theater to see them," admits Nick.
Until the industry changes, our nation's high schools will continue to produce more Jonas Brothers-type little goobers than Allman Brothers-type scruffy-haired, lovable losers and small business owners like Larry will continue to pay the price.
By C. Bommarito