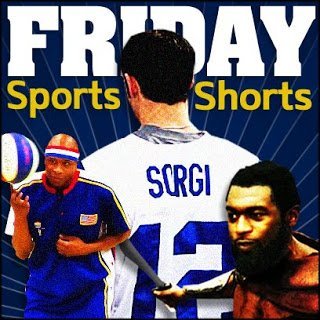 Clint Session returns to playoffs with trophies
The NFL awarded Colts linebacker, Clint Session, the league's MVB - Most Valuable Beard - award in a ceremony Monday afternoon. However, Session was not on hand to accept the honor. He was away on a brief excursion to the coast of Guatemala.
Session's trip satisfied his lust for stalking humans while on hiatus from game action during the Colts' bye week. Despite the award, he may face sanctions for three skulls found neatly displayed in his beard, discovered by customs agents upon returning from Central America. The NFL has a longstanding policy against the hunting of human beings for sport by current players, a rule the players union is currently fighting.
While the NFL is unable to stop Session from hunting and stalking opposing players on the field, they have sternly requested he leave all heads attached to their bodies.
Pacers fear team defections during Globetrotters visit to Indy
The Harlem Globetrotters will be at Conseco Fieldhouse next Monday. While fans can expect the usual entertaining gags and hijinks from the Globetrotters, their longtime adversaries, the Washington Generals will be doing some scouting while in town.
"We're taking a serious look at Pacers coach Jim O'Brien," said Team President Bill McTavish. "It's hard for us to go out there and find new ways to lose night after night, but this guy's an artist! And he's found creative ways to blow games too, not just small leads either. Just imagine what this guy could do if the NBA allowed opposing teams to bring ladders and trampolines on the court."
O'Brien's contract expires at the end of next season. Pacers executives refused to comment on the subject.
Colts fans flock to Baltimore venues for vengeance
After statements made in an online forum by Mike Augustinos, manager of Howl at the Moon, an Indianapolis piano bar, Colts fans have planned the ultimate payback.
Augustinos invited Ravens fans to visit Howl at the Moon before, during and after the Colts-Ravens game Saturday night.
According to a Colts fan who would only identify himself as "Blue," a large group of fans will fly to Baltimore this Saturday and fill up local bars, picking fights with Ravens fans and forcing them to listen to long-winded explanations about how awesome tailgating is in Indiana.
"Many of us have season tickets to the game, but I really feel like this is far more important," Blue said. "I doubt we'll even have time to watch the game with all the ass-kicking and whatnot. This is what football is all about."
Blue's best friend, referred to as "White," has collected as many photos as he can find of tailgating events before Colts and Indiana University football games and organized them into a scrapbook. The book is 500 pages and exemplifies the fact that "we know how to party," according to White. Each photo includes a detailed caption. He plans to bring the book to Baltimore and force all Ravens fans to read it in its entirety. White also has mailed a copy to Augustinos.
"Augustinos will eat cat shit for the way he talks about my city," he said.
Some of the offensive statements made by Augustinos included "It sucks living in Colts country," "I BLEED PURPLE" and "For anyone that has never been to Indianapolis, their tailgating is horrible."
Andre Dawson passes on Cooperstown
Andre Dawson was elected to the Major League Baseball Hall of Fame on his ninth ballot attempt last week. However, the Chicago Cubs have requested Dawson place his Hall of Fame entrance on hold and return to the team for the 2010 season.
"The Milton Bradley experiment was a cluster fuck at best," said Cubs General Manager Jim Hendry. "And after we dumped him I totally forgot I needed to replace his position. Sure, having a 55 year-old man on the roster may not sound ideal, but I think he could bring a lot to this team."
Besides the addition of Dawson, Cubs management has focused heavily on pitching this offseason. Management just announced another former Cub, Greg Maddux, as special pitching coach. Team officials are confident they can talk him into starting a few games by July.
Some fans feel the Cubs missed opportunities to bid on free agents closer to their prime, but Hendry disagrees.
"I took a chance on Bradley and we all see where that got us. This year we're sticking to players who have proved themselves Hall of Fame caliber. You can bet we'll be calling up Ryno to play some second base while he's coaching in Iowa this season too. I'd also like to see either Ron Cey or Vance Law and his coke bottle glasses standing over at third base at some point in the season. That's really more for my personal enjoyment though."
FBI looking into Harrison
Several sources reported that Philadelphia police are enlisting the FBI to help investigate former Indianapolis Colts wide receiver Marvin Harrison and his involvement with the shooting death of Dwight Dixon last July.
Local authorities are also looking into whether or not Harrison was involved in the disappearance of wide receiver Anthony Gonzalez, who replaced him on the Colts roster this year. Gonzalez has not been seen since week one of the 2009 NFL season.
Reporting by C. Bommarito, Dudley Dawson, Hate Nurst & Jenny Porter