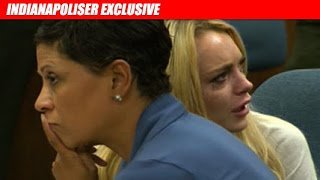 LYNWOOD, CA – After earning a reduced prison term, due to overcrowding, Lindsay Lohan's opportunities to shank a fellow inmate have been severely reduced. Her original 90-day sentence was thought to be more than enough time to pierce the abdomen or lower back of another prisoner, but those dreams will come to an end unless her lawyer is able to pull some strings.
Shawn Chapmen Holley, Lohan's lawyer, has requested that the state of California allow Lohan to be involved in a shiv to the abdomen event sometime in the next week, before Lohan leaves the women's facility and heads to mandatory rehab.
"My client, whom was visibly distraught when I last talked to her, would like to make sure she is taking the fullest advantage of her shortened jail sentence," relayed the irate Holley. "Now, Lindsay has no desire to be treated any differently than her fellow inmates, but she would prefer to be on the charitable end of this transaction and not the receiving. Her loving father has already had a knife like tool fashioned which was blinged out by Lindsay's favorite jeweler, XIV Karats Jewelery. She would also like her publicist to produce the weapon, or 'shiv' if you will, in a small plastic baggy and smuggle the item in rectally during visiting hours. Lastly, Miss Lohan would like a bottle of Voss water to cleanse her blood soaked hands at the completion of the shank fest."
No timetable has been set for the shanking as of yet, but a spokesmen for Century Regional Detention Facility in Lynwood said it will likely happen near the very end of her stay, if it were to happen at all.
"Miss Lohan is being treated like any other inmate in the facility," announced the spokesmen. "That being said, there have been some requests made to provide Miss Lohan the opportunity to stab one of our long term residence right in the belly. We have been discussing on whether or not we should fulfill that request given that her stay with us is being decreased. There are no specific details as to how or when this would take place, but it will likely be as the recipient is leaving the shower area, and it will be a firm stab to the gut."
The Lynwood facility has enrolled Lohan into a 5 hour aggressive knife fighting class, where she will learn how to handle, pinpoint, and drive sharp objects into unsuspecting stomachs. She is expected to report to rehab approximately 24-hours after her penitentiary abdomen run through.

Story by Hate Nurst