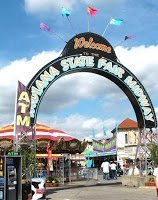 INDIANAPOLIS – The Indiana State Fair opened Sunday. And, keeping with tradition, this year's fair pushes the envelope of deep fried delights. Visitors are clamoring to get their sausage fingers on the hottest new fried creation, deep fried cigarettes.
"We've seen deep fried pizza,
Oreos
, butter and pickles," said Clem
Dakich
, proprietor of Clem's Fried Smoke Shack. "But, we upped ante this year by addressing a real problem with novelty foods. In the past, when our customers sat down to eat delicious fried treats, they had to take a break from smoking. Well, not on my watch. Not anymore."
To make the treat, vendors take an individual cigarette, roll it in pig lard, butter, cake batter and fat, before deep frying it until it is coated with a golden brown cholesterol spiking shell of deliciousness. Consumers can enjoy the smoke in their lungs as well as the dripping, fried back fat on their lips and fingers.
Different flavors are also available. Clem's offers
Kools
with chocolate and sugar added for a sweet, decadent dessert taste; Camels with added salt and vinegar; and Viceroys Tokyo-style are soaked in Soy Sauce for an exotic Asian twist. Marlboro Ultra-Lights in light breading are available for more health-conscience consumers.
Clem's Fried Smoke Shack has enjoyed a steady stream of sweaty Hoosiers waddling up for puffs since he took the shop off its wheels Sunday afternoon. These edible treats provide a week's worth of calories in approximately ten puffs and six bites.
While the vast majority of the fair crowd celebrates this marvel in human innovation, others are not so thrilled. Area doctors have spoken out against consuming these treats. Many are quick to cite the twelve strokes and twenty-two heart attack deaths at the Fair this year as proof. Fair officials do not acknowledge a connection and plan to continue the sale of deep fried smokes throughout the week.
"There's always going to be nay-
sayers
," said Clem, smiling broadly with both teeth as he fired up a deep fried Memphis-Style
Barbeque
Lucky Strike. "But, I reckon it's time we celebrate the smoker instead of banning him from bars, restaurants and Babies 'R Us."
Story by C.

Bommarito

& Dudley Dawson