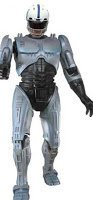 Manning 2.0
The Colts opened training camp this week unveiling a new weapon at QB. After showing signs of mortality in last year's Super Bowl, the Colts organization dismantled the previous Peyton Manning and started from scratch. Peyton's body was reconstructed within a steel shell and displayed during the team's second practice.
Only five spectators were killed when PM 2.0 pulled a semi-automatic handgun from his leg and shot wildly into a crowd of onlookers. The Colts are calling the mishap a temporary glitch and hope to have PM 2.0 firing bullets in the direction of his receivers by their season opening visit to Houston.
The McShaq Signs with Celtics
Shaquille O'Neal signed with the Boston Celtics Wednesday and inched one step closer to his goals of winning another NBA Championship and playing for every team in the league. If his current pace continues, O'Neal will sign with the Pacers around 2020 and finish his career in 2029 with the Minnesota Timberwolves.
"It's a Shaqtastic day," said The McShaq, "Some guys will retire with more rings, but not more jerseys."
This signing also laid the groundwork for O'Neal's post-NBA career -- boxing. After some on-air criticism, McShaq used Twitter to challenge ESPN's loudmouth commentator Jim Rome to a charity match on Patrick's Day in Fenway Park. This would be Rome's first bout since his title match with Jim Everett in 1994.
Reporting by Hate Nurst and Dudley Dawson