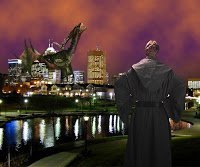 INDIANAPOLIS – Lord Dask Elvar Hildar left the Indianapolis Convention Center late Sunday to embark on a mystic, dangerous odyssey through magic forests and treacherous high seas to retrieve his purloined noble steed, his parents' 1998 Dodge Caravan. Hildar, also known as Keith Mench, a 42 year-old warehouse supervisor at Office Depot, discovered the minivan was towed after he finished gaming at Gen Con in the late afternoon.
"I'm called a receiving specialist in the human world", says Mench, "but to most, I'm a Level 24 Palladin Elf. I've spent the last twelve years gaining experience and earning the respect of my elven tribe. Fortunately I only use my craft for the greater good. That should serve me well on this quest."
He set out to retreive his vehicle from the mystic Delaware & South Towing. After a brief stopover at the popular Palladin Elf hangout for a Steakburger and Oreo shake he continued east, past Lord Hampton's castle. His lack of muscular tissue, delicate frame and reluctant tolerance to milk products made the journey incredibly labor intensive.
The journey turned dangerous and Hildar briefly abandoned his quest when he came across a group of wicked wraiths. His intense fear of the opposite sex caused him to dive behind a parked SUV and cower in fear, as the five women disappeared into Ike and Jonsey's. Had they noticed him he would have surely been forced to speak to them – a risk he was unwilling to take.
Hildar sprinted south through the Union grotto away from the enchanting music spilling from the bowels of the Slippery Noodle Inn. His social anxiety relented as his feet created distance between himself and common folk of the town.
Upon arriven at Delaware & South Towing Hidlar met an evil dwarf named Rick.
"I informed this futile dwarf my stallion had been sequestered by members of his clan," lamented Hildar. "He refused to acknowledge my request but admitted my parents' van was in the lot. He demanded cash, money order or certified personal check which I found intolerable."
Hildar produced his replica rapier and a brief struggle ensued, ending with Rick tossing Hildar out from the building and onto the sidewalk. Hildar then clutched his slingshot and launched a mighty stone, striking a windshield and shattering it into a mountain of translucent gems. Hildar then prepared to charge the lot when the Visigoths of the Indianapolis Police Department arrived in colorful chariots.
"I was no match for their wizardry," recalled Hildar. "One of them held up his hand and struck me with a lightning bolt. It lasted about 30 seconds and I urinated on myself."
Mench was arrested for assault with an aluminum foil sword, vandalism and public urination. IMPD informed his parents of the incident and eventually dropped all charges. Mench's parents have revoked his van and television privileges for the remainder of the summer.
Reporting by C. Bommarito, Dudley Dawson & Hate Nurst