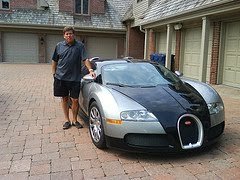 Authorities raided Tim Durham's
Geist
residence yesterday afternoon. The former big shot's prized car collection was confiscated to recoup a portion of the money he allegedly purloined from investors. A total of eighteen cars were picked up including his Lamborghini, Bentley Flying Spur, Ferrari and 1969 Mustang.
"This is only the first step," said Federal Investigator Vince
Biancini
. "We're going to dig deeper to really make him pay. We can't get every penny back for these folks but we're sure as hell going to try."
In addition to his prized car collection, Durham was forced to turn over his U.S.state quarter collection, his rare
Nickelback
vinyl
LPs
, plus his baseball and Pokemon trading cards. This collection included his signed, extremely rare, 1987 Billy
Ripkin
Fleer
baseball card that featured
Ripkin
holding a bat with the inscription "fuck face" on it.
"I have no regrets," said an even-tempered Durham."They're taking it all away from me, but at least I can say I owned a complete set of
Pikachu
, including the rare card with him and Lyra. I'll treasure holding those cards and jamming out to
Nickelback
forever. Oh yeah, banging all those Playmates was pretty cool too, just try taking that back bitches."
Story by Dudley Dawson