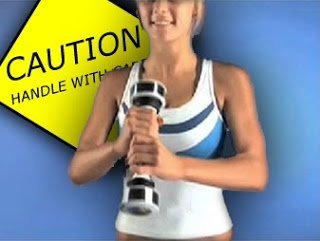 CARMEL, IN – A 20 year-old Hamilton County man is in stable condition after local authorities reported his Shake Weight-abusing girlfriend tried to give him a handjammer.
Police said the man is expected to make a full recovery since his penis did not totally detach from his pubic region.
The incident happened in 19 year-old Melissa Gullies parents' basement while the couple was watching a Saturday Night Live rerun.
"Melissa started using the Shake Weight about three months ago," said officer Lane Roberts. "The victim's dick just didn't compare to the two and a half pound Shake Weight, so when she didn't feel an intense burn in her arms, shoulder and chest, she just kept flogging away."
Eventually Miss Gullies stopped when she noticed the penis had received significant trauma and the victim was bleeding from his mouth and nose.
"The Shake Weight has really transformed my upper body recently," noted Gullies. "My muscle activity has been climbing over 300 percent so I really couldn't even tell I was holding onto anything. I kind of fell into a double fist pumping trance when I subconsciously started replaying the free DVD's techno composition in my head."
Gullies continued, "After about six minutes, the suggested training time, I came to, but the lack of inertia resistance provided no burning, so I kept pounding away."
Gullies' boyfriend, who wished to remain anonymous, has not filed any formal charges, but he offered advice to others joining the Shake Weight revolution.
"Be responsible when using that device because arms aren't the only thing getting ripped. You'll attain a firm limb, but you'll also be a lot stronger and the next thing you know you'll be detaching a penis from a man's lower torso."
Local authorities are bracing for similar calls with the recently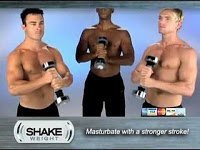 introduced Shake Weight for Men. The poundage has doubled, yet the average user age has dropped. Hundreds of adolescent boys are anticipated to receive masturbatory injuries caused by overuse of the five pound bicep blaster. Hamilton County hospitals have already started to brace for, what some are calling, "Dynamic Inertia" overload.
Story by Hate Nurst