LEBANON, IN -- In an attempt to drum up fledgling auto sales Hockett Chevrolet, known as the "Home of the Trunk Monkey", had it's first trunk monkey give-away last weekend. Unfortunately for Hockett, the give-away turned out to be more of a problem than a sales increasing solution.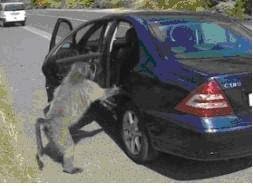 "Monkeys are so loveable on TV," says Senior Sales Manager Tim Wilkerson. "We thought that surely giving the customer a free monkey with the purchase of a new car would be a genius idea."
"As soon as we got home and let our new chimpanzee out it went crazy," says unsatisfied customer Fred Hastings. "The thing jumped on our kitchen counter and pulled all the dishes out of the cabinets and then shit in the sink. Once it finished it picked up its own shit and began throwing it at us. Then it tore a hole in the closed garage door, ran off and we haven't seen it since."
The Hastings story became a recurring theme over the weekend as more and more unsatisfied customers were forced to call 911. Police and animal control officers have been forced to work overtime in order to contain the primates.
"We've been on high alert since the Hockett Trunk Monkey give away," says Boone County Sheriff Lance Renfro. "Overall, we believe about twenty five primates are on the loose, which includes the dozen that attacked and killed a Hockett employee."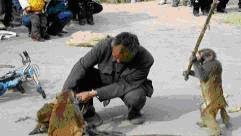 The employee killed was 47 year-old David Watson who was putting a leash on a monkey when another crept up and beat him to death. Authorities are following every lead. Several witnesses reported last seeing a group of primates heading east on Camp Street in the direction of Memorial Park.
"I never imagined giving away monkeys would be a bad thing," says Wilkerson. "They seemed so mellow when we bought them from that guy who had them in his van. We were sure to give them Xanax and alcohol just like he recommended. I suppose this was just all a bad idea from the start."
Veterinary professionals from Purdue University and the Indianapolis Zoo arrived in Lebanon to assist authorities in the safe capture of these animals. Meanwhile, Hockett has apologized for the horrific events that occurred and for the events that may still transpire. Hockett has closed its doors until further notice.

Story by Dudley Dawson