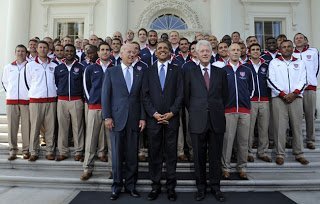 WASHINGTON, D.C. -- President Obama will meet with experts today to discuss BP's gusher in the Gulf of Mexico, which has reached day 51. The White House staff will soon decide how to clean up BP's mess safely and effectively while acting swiftly on President Obama's recent
edict
to kick some ass.
In the last two months BP has jerked an estimated 50 million gallons of oil into the Gulf of Mexico and, despite the limited success of the
containment cap
, the well shows no sign of stopping.
Throughout the disaster BP has tirelessly brainstormed and fed the public creative half-truths and false data. But, they have also made a few, limited, half-assed attempts to plug the spewing well. BP gave these hole-plugging attempts highly technical, cool-sounding names such as: Cofferdam, Top Kill, Top Hat, and Hole Pluggageddon.
Now U.S. Federal Investigators are launching a criminal probe into the oil company to investigate their history of negligence and failed attempts at fixing the situation. In parallel, President Obama has launched a more direct tactic.
"Today your government launched Operation Junkshot," announced President Obama. "The end goal is to find every BP executive and give them a swift kick in the nuts on behalf of the eleven employees who died on the oil rig as well as our Gulf Coast citizens. I think after all this neglect, these fat cats could use a solid ball dingy."
Effective immediately, several sub operations under the umbrella of "Junkshot" have been kicked off. Sub operation "Bankok" will pursue the very top executives of BP with a goal of a solid nut shot by tomorrow afternoon. For this special assignment three unidentified members of the U.S. Soccer team are being flown back from the World Cup in South Africa to deliver high-powered, leg-driven shoe shots to the groin of the not-so-great polluting Brits.
"Listen, I'll gladly take a nut knock from Obama," said one BP Exec. "Just don't get
Costner
and
Cameron
involved!"
Story by Dudley Dawson