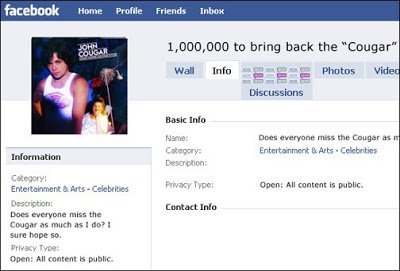 BLOOMINGTON, Ind. -- Local singer-songwriter John Mellencamp has agreed to add the "Cougar" back to his name if one million people join a Facebook group.
Originally known as "John Cougar" and "Johnny Cougar," Mellencamp has sold more than 40 million albums. From 1983 to 1990, he was known by the stage name "John Cougar Mellencamp." The "Cougar" in his name disappeared in 1991, much to the dismay of his fans.
On the group, Mellencamp's son writes, "I made a deal with my dad. If I get 1,000,000 to join this group, he will add 'Cougar' back to his name." So far, more than 7,000 Facebook members have joined.
Comments on the page have ranged from supportive to critical. Users wrote the following messages on the discussion board:
"I think this is an awesome thing you are doing."


"My husband said he'll change his name too if Mellencamp does!"


"Why not just do it anyway? If you can change your name back with a million Facebook followers, you can do it without them."


"I'm not going to preach to you. You're a free man... I added 'Cougar' to my name and it didn't seem that difficult... Now I'm not nearly as ugly, and I smell a lot better too!"


"If you love your family, do it now so they don't have to put you in your grave early."
Several photos of Mellencamp on the group page show him dressed as a middle-aged woman chasing young boys. The singer was not available for comment.
Story by Jenny Porter