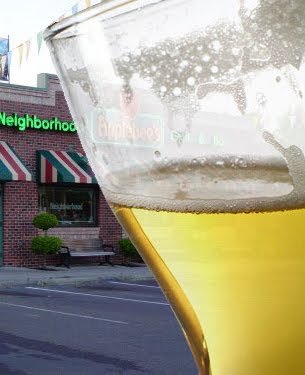 AVON, Ind – An all too familiar scene unfolded last Saturday night inside the Avon Applebee's when Todd West, a local dirt track racing enthusiast, was stopped short of reaching his personal Brewtus record of thirty, and politely asked to leave.

West had planned to treat his family to dinner at the local downscale family eatery on U.S. 36, after he installed a new alternator in his wife's Chevy Beretta. Applebee's is a family favorite, thanks to its cutoff-friendly dress code, robust assortment of fried foods and hometown nostalgia-themed décor.


Brewtuses, 23oz draft beers -- another family tradition -- were on sale for $2.50 that evening. And West finished three before the family ordered their Ultimate Trio appetizer platter.


"I've never seen Todd plow through so many Brewtuses so fast," noted manager, Steven Whitcock. "It's like someone told him we don't have a drink limit. But, we do… it's just really, really high. I think it's like 30 or something. I'd really have to check with my GM. But, I've never seen someone go for it like that."

The West family always requests to sit at their usual high-top table nestled comfortably in a quaint corner of the sports bar dining area, underneath the photo featuring Todd's 1989 Avon High School Sectional Championship football team. Most of the servers are accustomed to his "you didn't know you were waiting on a celebrity" routine and laugh politely. But, on this evening, family fun was nowhere to be found.


Customers seated along the path between the West's table and the restroom were subjected to increasingly profane language each time he passed. After downing his 27th beer, he made what would be his last trip to the restroom.


"The customers at table fourteen called me over immediately," said Jimmy Paul, the bartender on duty. "I guess Mr. West had forgotten to put his penis back in his jean shorts. They were pretty pissed off. Their little girl was crying."


Whitcock sprang into action, hoping to utilize his training as an amateur MMA fighter. He firmly asked the West family to pay their tab and leave the restaurant. As the family was escorted out, West pulled a Danville Marching Band trumpet off the wall and covered his genitals with the bell of the instrument, knocking over several Cascade High School swimming trophies and an untold number of Brewtus glasses.


The West family was banned from the Applebee's for a period of 30 days and must reimburse the restaurant for the swimming trophies, glassware and trumpet. The total cost of the damages are estimated at $9.22.


Though West never beat his personal Brewtus record, he now holds the distinction of being one of only 17 intoxicated persons to expose themselves in the Avon Applebee's. His name was added to the wall plaque this week.


Story by Hate Nurst