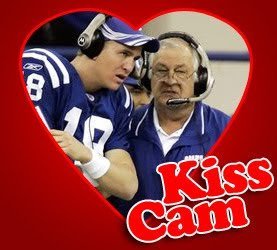 The Indianapolis Colts win against the Denver Broncos on Sunday set a number of records, including the most consecutive regular season wins and becoming one of only seven teams to go 13-0. The weight of the game was felt by everyone in the city before kickoff, and the Colts had to overcome an out-of-the-ordinary obstacle to accomplish the win.
The Colts had a difficult time focusing their offense in the 2nd and 3rd quarters of the game due to noise levels and heckles coming from the sold-out Lucas Oil Stadium crowd. It wasn't immediately clear why so many fans had seemingly turned their back on the undefeated home team. Until the 4th quarter.
At the end of the 1st quarter, Kevin Sutherland, a Denver resident and lifelong Broncos fan, broke into the jumbotron booth and successfully hijacked its operations for half of the game. The regular operator was found tied up, but not injured, in the Colts locker room at the end of the 3rd quarter and Sutherland was detained by IMPD.
The jumbotron regularly directs Colts fans' excitement as the game progresses by leading them in "First Down" cheers and instructing them to be quiet as Peyton Manning and the coaching staff design and execute important offensive plays.
"I thought it was weird when the screen started encouraging everyone to 'make some noise' during the huddle," said season ticket holder Jim Harvey. "And the sponsored cams like the Smile Cam and the Flex Cam were out of control. I knew something was up when I saw Peyton and Tom Moore on the Kissing Cam."
The hijacking was immediately apparent to one attendee, but when the call came in to stadium officials, it didn't come from a confused fan or from the Colts offensive line. "The gratuitous replays of the Brandon Marshall receptions were a big clue, but when I saw those Coors Light ads, I made the call," said Howard Brenner, Anheuser Busch's local representative. "Bud Light is the official beer of your Indianapolis Colts."
Sutherland is currently being held in the Marion County Jail on charges of criminal confinement, hijacking, and unsportsman-like conduct. Calls to his home in Denver were unanswered.
Reporting by E. Goldberg