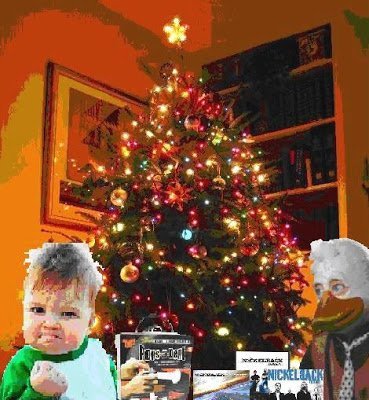 GREENWOOD, IN - Six year-old Isaac Lawrence considers himself an expert on the holiday season. He says his specialty is in receiving presents from both Santa and relatives. Because of this self-proclaimed expertise, little Isaac feels comfortable in calling out gift givers as they are. Recently his Uncle Kenny has been the target of his intense scrutiny.
"Uncle Kenny has a long string of crap presents," says young Isaac. "The most recent being last years gift. Seriously, Howard the Duck? A life sized cardboard cutout? What year is it, 1986? That's probably the first Howard the Duck cardboard cutout sold....ever."
As little Isaac stated, Uncle Kenny has had a long standing history of providing sub par gifts for his nephew. In 2007, when Isaac was 4, Uncle Kenny underwhelmed his nephew with a bag of socks. In 2006 he gave Isaac a Nickelback CD.
"I don't see where I'm going wrong with these gifts," says Uncle Kenny. "Howard the Duck is a classic and Nickelback rocks! I want my nephew to be a rocker."
While Uncle Kenny feels his Christmas gifts for his nephew are more than acceptable, Isaac refuses to change his stance.
"Uncle Kenny is by far the worst gift giver ever," says Isaac. "For him to think otherwise is absurd and borderline criminal. Seriously, he gave me a $10 Simon gift card last year. What the fuck is that all about? When am I going to go to the mall? Plus, with those stupid monthly fees Simon charges all I have now is a worthless piece of plastic I could potentially choke on. Oh, and by the way, Nickelback sucks ass."
Other family members are optimistic that Uncle Kenny can work his way out of the 'worst gift giver' title this year but his nephew holds little hope. He bases his feeling on the existing five year trend. Uncle Kenny feels confident he'll be able to turn it around.
"This year my nephew will be ecstatic," says a positive Uncle Kenny. "Don't tell him but I got him a paint scratch remover from QVC and a wire whisk."
Most experts believe his worst gift giver streak will continue.
Story by Dudley Dawson