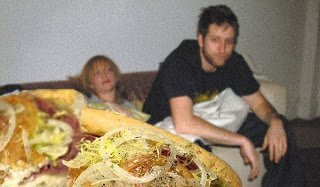 BLOOMINGTON, IN – An Indiana University student is investigating the discovery of a local sandwich found uneaten, lying between him and another naked co-ed, Thursday morning at an off-campus, Indiana University apartment.
Ronnie Silo, a 20 year-old business major, nakedly awoke Thursday morning and found a tightly rolled sandwich lying between him and his bare-assed girlfriend, Mary Danks. Ronnie believes the sandwich was an Italian hoagie of some sort and confirmed the existence of three different types of aged meats, mayo, and some assorted veggies when he inspected it in the kitchen later that day.
"I have no clue where it came from," said Ronnie. "Wednesday nights are always crazy. Mary and I met up for fifteen cent draft night at the Blue Bird, I believe Hairbangers Ball was playing. At some point shots were involved and the next thing I knew I woke up butt-ass naked with this un-molested, delicious sandwich sitting right there in-between us! We never made it under the covers. I don't even think we hooked up."
The sandwich itself appeared to be disappointed at the whole situation as well. It soggily laid on the kitchen counter, let down by the drunken students, who did not take advantage of its freshly sliced cuts of salami, ham and pepperoni, stacked inside a warm Italian roll, topped with local, organic veggies and mayo.
Sandwich creator, Gus Macklin, saw the night going in another direction.
"These two came in and right away I could tell the night wasn't going to end well for this young hoagie. First off, they were way too intoxicated. I had to ask them three times if they were ordering #6 or #16. I was just trying to get them out the door. The girl looked like she was going spray vomit all over my tile floors. And they asked for mayo. You don't get mayo on a hoagie. Before they paid, he was holding the sandwich down by his crotch, swingin' it around like it was his dong. But, I've seen this before. I'm not surprised that sandwich didn't get eaten. It's a damn shame though. All those freshly sliced cold cuts went to waste. That's really disappointing."
Silo expressed remorse over neglecting the sandwich. Although the details of acquiring the sandwich are still fuzzy to him, he intends to eat it for an early dinner.
"Am I sorry I didn't eat the sandwich? Sure, a little. But, then I wouldn't have even known it ever existed this morning," said a philosophical Silo. "Now I can enjoy it in all its glory, even though the bun is a little soggy and the lettuce is wilted. I think we're all better off this way."
Story by Hate Nurst.