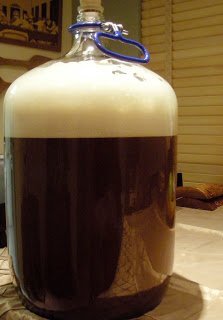 ROCKY RIPPLE, IN – Alleged beer enthusiast, Jeff Treadwell, forced several friends to drink his latest batch of homebrew this Labor Day weekend. He offered his guests free bratwursts and burgers as well as his ill-concocted swill. The majority of his guests eagerly responded to his offer of free beer, but failed to realize they would be forced to sample more of Treadwell's many personal brewing blends.
"Why does Jeff still try to get us to drink this crap," said party guest Reggie Franklin. "He had three types on Saturday. One he called 'Treadwell's Fire'. It tasted like spicy glass."
Treadwell's personal brands of homebrews on tap included Jeff's BP Spill Stout and Meth Pale Ale in addition to Treadwell's Fire. Treadwell creates his brews from basic Internet instructions then adds his own spices as he deems necessary. Treadwell's Fire mixes hops and
ground jalapeno seeds fermented in a Kingsford charcoal bag. BP Spill Stout Stout mixes extra malt with Hershey's Syrup, salt and seaweed. Despite its name, Meth Pale Ale contains no actual methamphetamine, just a mild blend of wheat, barley, and household chemicals including iodine, grain alcohol, Children's Nyquil and Pop Rocks.
"I've just about got this homebrew thing mastered," said Treadwell. "I even bought a few bottles of other beers to have a taste test. I lined up New Belgium Fat Tire, Bell's Oberon, and Sun King Sunlight Cream Ale then asked my buddies if any were better than my -- soon to be famous -- homebrews."
Unfortunately for Treadwell, all of his guests agreed his beer tasted like gorilla piss mixed with vinegar, which, coincidentally, can be found in Jeff's Jungle Pilsner.
"I'm sick of hearing about his mead recipe and pasteurization process," said a queasy Franklin. "I only came here for some beer and college football. Instead I'll be getting my stomach pumped now."
Most guests who tasted his beer either spit it out or vomited before any permanent damage occurred. Three guests were not so lucky. Cindy Baker, Rachel Jenson and Trent Stanton were all rushed to Methodist Hospital to be treated for seizures and have their stomachs pumped. All are listed in serious but stable condition.

Story by Dudley Dawson