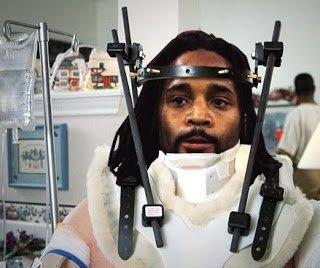 INDIANAPOLIS -- Despite having to play almost an entire quarter, Bob Sanders achieved a personal milestone yesterday afternoon. Sanders escaped the 2010 season after playing less than one full game.
"I compete with myself. And I try to improve every year," said a relieved Sanders. "Last year I had to play nine games before I got a season-ending injury. This is a personal best. I can sit back and really enjoy watching some games now."
The delicate safety hurt his elbow during the first quarter against the Houston Texans yesterday when an opposing player lightly brushed up against him. Then Sanders was being examined in the locker room during the second half when he suffered another unexpected injury.
"I just patted him on the back and said 'hang in there,'" said team physician Doug Robertson. "I'm pretty sure I knocked his shoulder out of joint."
After his examination Sanders was walking out of the trainer's office and slipped on a tube of Ben Gay dislocating his left knee. As he clutched his injured knee, his right thumb unexpectedly shattered.
Sanders was scheduled undergo an MRI today, but he suffered a nasty stubbed toe at his home and has been confined to bed rest for the foreseeable future. There is no timetable for his return.
"I only know how to play this game at two speeds: Full speed and broken front axle. But, for the time I played, I think I contributed well and had a pretty productive season," said Sanders. "I'
ve
got a lot of healing to do, but I'm looking forward to the
offseason
now."
UPDATE: Sanders has developed several serious bed sores since being placed on bed rest this morning.
BREAKING NEWS: The Colts training staff was able to duct tape Sanders together and he survived the light walkthrough practice this afternoon.
Reporting by C.

Bommarito

, Dudley Dawson and Hate

Nurst