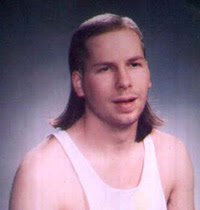 WEST LAFAYETTE, IN -- A Purdue University graduate study team diagnosed the first ever recorded case of Little Man Syndrome (LMS) in a subject over six feet tall, a disease typically only found in males of much shorter stature.
LMS is most commonly diagnosed in males under 5'5" tall. These individuals are known to frequently stare down much larger males, discuss their "max bench press," and remove their shirts in public spaces. Licensed therapists typically diagnose LMS when an individual displays any combination of these symptoms. Meanwhile, those displaying symptoms similar to LMS and over 6 feet tall were just diagnosed as being assholes.
The team, formed by Purdue Department of Psychology Professor Dr. Mitch "Tiny" Sandusky, was tasked to study male behavior with the goal to prove or disprove LMS can exist in taller men.
In recent years, regional mental health clinics have collected numerous reports of this rare variation of the disorder, but these reports could not be confirmed until now. Since the beginning of the 2006 Fall Semester, top nerds in the Department of Psychology have anxiously observed male subjects on campus, and recorded over 100 different accounts of shirt removal. The graduate team spent several years at Harry's Chocolate Shop, Jake's, and Where Else, popular West Lafayette night spots, observing potential LMS sufferers. Researchers were instructed not to follow the possible subjects too close for fear of accidentally triggering the LMS rage.
The team diagnosed a subject known only as "Big Guns" who displayed all the obnoxious traits of LMS however he stands at 6'1". His smedium Affliction shirt, T Rex length arms, and Red Bull mixed drink were red flags the team could not ignore.
"We noticed Big Guns constantly looking in a mirror on the dance floor at Where Else, this closed the deal for us," said Sandusky. "Big Guns may be 6'1", but he only weights about 130 pounds. He began picking fights with guys who had much bigger guns than his. This really drove home the diagnosis for us. Fortunately, we think Big Guns can be treated."
Treatment for LMS involves preventing the subject from listening to Nickelback, limiting energy drink intake, taking away all ill fitting shirts and/or just allowing the subject to get his ass kicked. The American Psychological Association cannot confirm the diagnosis for at least six months. The complete documentation for the study will be released at the end of this semester.
Story by Dudley Dawson