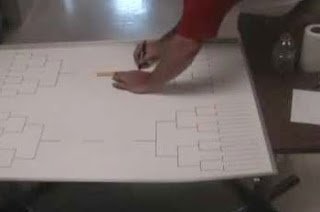 PLAINFIELD
, IN - Steven
McCluskey
has retained his crown as
KSP
Logistics NCAA March Madness office pool champion for the ninth consecutive year. He will receive his choice of
KSP
Logistics merchandise today. The pool is free to enter and all 112 employees can submit unlimited entries, a system
McCluskey
has exploited to his benefit.
"I don't know why anyone else even bothers to enter," said Ron Morris. "
McCluskey
has
freak'n
won the thing nine years in a row now. He's had a bracket that is 100 percent correct every year. The guy's entire wardrobe is
KSP
embroidered fleeces, the nice kind with
sidepockets
."
McCluskey
had a bracket that predicted the Ohio win over Georgetown, the Northern Iowa upset over Kansas and even had Duke edging out Butler in the final game.
His perfected system is a
deliberate
process that involves taking vacation time Monday through Wednesday before each tournament. In that time he fills out one bracket for every possible outcome.
"I fill out 9,223,372,036,854,775,808 brackets to cover all my bases," said
McCluskey
, while smugly sipping coffee from a stainless-steel
KSP
travel mug. "Once the selection Sunday program ends I have 89 hours. I utilize my fair share of Mountain Dew, Jolt Cola, nicotine, Red Bull, and cocaine to keep me awake and push ahead."
Co-workers wonder if filling out 9 quintillion brackets by hand in an 89 hour time span, heavily fueled by a barrage of stimulants is a healthy practice.
McCluskey
doesn't seem to care and believes the work is worth it for the
KSP
merchandise he receives in the end.
McCluskey
has already begun altering his strategy to take on the larger number of brackets he'll have to fill out if the NCAA increases the field to 96 teams next year.
"I purchased a trailer in Morgan County and turned it into a
meth
lab," said
McCluskey, smiling as he lit a
cigarette with his pewter
KSP
Zippo
lighter. "By the time next year rolls around I'll have enough High Speed Chicken Feed to increase my productivity. That company
duffel
bag is mine!"
Story by Dudley Dawson