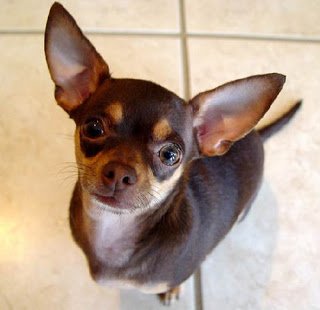 BLOOMINGTON, IN – Chihuahua-assisted domestic violence swelled in Indiana this week after a Bloomington woman accused her ex-boyfriend of throwing her 3 lb Chihuahua at her.
(Full story here)
He allegedly struck her in the head with the small, shivering, annoying little dog, leaving her unconscious for a brief moment.
(Ed. Note - While

The Indianapoliser

does not condone using violence to settle domestic disputes or negotiate unpaid bar tabs, we would be remiss not to note the man's creativity.)
"The rise of pet-assisted violence has us really concerned," said Bloomington Chief of Police, Ronald Bishop. "If this was a real dog, not just some shitless little Chihuahua, we'd be calling in the coroner's office and apprehending a murder suspect. Even worse, we'd also be suffocating an innocent pet, since we have to bag everything for evidence."
Bloomington Police Department said this is only the latest example of an alarming trend – using foreign and domestic animals to commit crimes. Since June, 2009, several murders, back-alley muggings, rapes and indecent exposures have involved the use of designer dogs and purse pets.
Bloomington Police Department encourages all victims of pet-assisted crimes to come forward or, at the very least, upload videos of the crimes to their Youtube channel.
Story by Hate Nurst