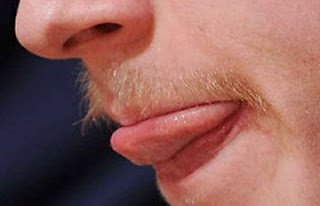 INDIANAPOLIS, IN -- Junior power forward, Matt Howard, shocked NCAA fans this morning when he announced he will end his college career after this evening's championship game. Howard has made the decision to go pro, but has no plans to enter the NBA draft. He will pursue his dream of becoming an adult film star.
"I've watched this kid throughout the tournament," said adult film tycoon James VanSchticken. "I haven't seen a pure 'stache like that since 1982. College is one thing, but when you've got that kind of natural ability, you need to take it to the professional level."
Howard, last year's Horizon League Player of the Year, has averaged about 13 points and 6 rebounds per game over his three year career at Butler. Experts believe he could contribute a great deal as a senior next season, but he feels he has the ability to reach his dream. And his teammates understand his decision.
"Look at that thing. It's amazing," said teammate Gordon Hayward. "I can't say I blame him. I just hope someday I'll be able to grow facial hair."
Story by C. Bommarito