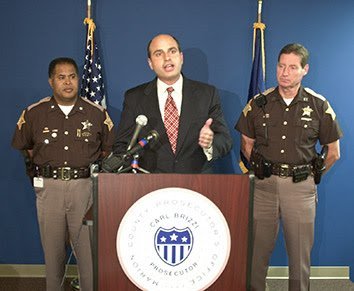 INDIANAPOLIS, IN -- Marion County Prosecutor, Carl Brizzi, will be suspended for four to six court trials for violating the Marion County personal conduct policy. The suspension, handed down today, contains conditions that could allow the length of the ban to be reduced.
"I respect the County's ruling, but I plan to appeal," said a dour Brizzi, flanked by bodyguards and his entourage. "I just want to get out there and use my God-given prosecutorial abilities to contribute my part to a winning city as soon as possible."
Brizzi is suspected of using his influence to grant favoritism to friends involved in his extensive business dealings. No charges have been filed against him.
Marion Country prosecutors remain committed to Brizzi even though Indianapolis is rumored to be entertaining trade offers and could look to this year's class of graduating IU lawyers for a long term replacement.
Reporting by C. Bommarito