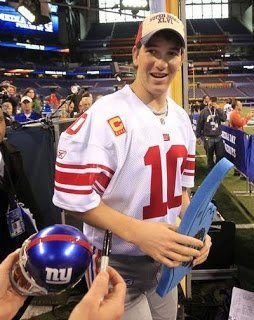 The Make-A-Wish foundation has granted wishes for thousands of children battling life threatening medical conditions. This week Eli Manning, seen here soliciting an autograph from a member of the media, will have his wish granted. Although no one is sure what Manning suffers from, one thing is for sure, that goofy bastard should be wearing a helmet 100 percent of the time.
The foundation stepped up to the plate when they fielded a phone call from a concerned New York vagabond who witnessed little Manning walking around with his head stuck in his shirtsleeve. A failed attempt to put on a common V-neck by the half-pint Manning. Others watched in amazement as Manning was determined to fit his melon through the wrong hole of his shirt, many even cheering him on. Manning seemed to thrive off of the crowd, smiling and bursting out with screams of joy while he flailed about. Eventually the little guy tuckered out and took a nap.
Make-A-Wish reached out to Manning, even though no obvious medical condition could be confirmed, and granted him one wish. Merriment swelled in Manning's eyes as he gazed at his neck-less brother Peyton and made the wish of playing for his second ring, one more than his older brother.
"I know he's bigger than me," mumbled Manning, as his nearby father reminded him to sit-up straight and speak up. "But, he got to go to two. I thought maybe I could go to two Super Bowls too. And after that I hope we can all get ice cream!"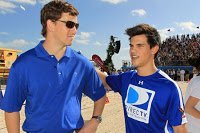 This, however, is not the first time the organization has reached out to Manning. While on a trip to Miami to watch his big brother play football, the foundation surprised the younger Manning and sent Taylor Lautner to help him construct a sand castle.
"It was the best day of my life because we ate ice cream in the sand," said Manning."
When contacted, Make-A-Wish could not confirm that they were indeed going to provide any ice cream for this wish.
Story by Hate Nurst