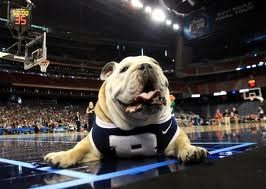 Last week's introduction of Blue III, or "Trip" as he is also known, by Butler University has many embracing the push toward future success. But why would the university introduce another bulldog?
Trip was born on Dec. 23, 2011 in Lizton, Indiana. He is the grandson of Ch. Cherokee Legend Rock, a very successful bulldog in the competition circuit. Both Blue II and Trip live with a Butler staff member. Often they are mistaken for father and son by visitors. They are far from it.
Not too long ago another young Bulldog was introduced in a deep-rooted fieldhouse located in central Indiana. His future was bright and no one knew the glory that would grace his presence and his team. Blue II was his name and his team made one of the most improbable runs in NCAA history. Twice.
Blue II's success was swift and his chubby little legs could hardly keep up with the celebrity that he was. The light of two finals appearances quickly turned to darkness with two finals losses. The offseason brought little satisfaction to Blue II's hungry soul. Thousands of bitches came and went. Blue II couldn't have cared less. He had already leg-humped his way to the top. Quickly Blue II turned to another love, dog bones, booze and regrettably...cocaine. Celebrity had truly taken hold of Blue II
Trip, the little fur-ball on energy signifies the energy of this young Butler team. A team that struggled at the beginning of the season but now has found its way. Many believe this team can still make some noise in the NCAA tournament but a Horizon League Tournament Championship must be acquired for this team to gain entrance. Who better to lead this team to victory than little Trip?
Long gone are Blue II's puppy ways and the skip in his step. His testicles dropped ages ago and growing older has taken its toll on this eight-year-old "dawg."
Fans have turned on Blue II for his offseason behavior as well. A summer arrest in which Blue II was found guilty of sodomizing felines in the back of his limo produced a cloud of uncertainty for his future with the team. Many blame Blue II for his distractions, which prompted the lackluster start to the season.
Trip and Blue II will have their moment in the sun together, at the tip-off of the Horizon League Tournament. Trip will glide to fame across the court at Hinkle Fieldhouse. Rumors are swirling about Blue II's role. Some believe he'll be sitting on the sideline taking in a victory lap season before retirement. Others suggest euthanization in front of thousands of bloodthirsty Bulldog fans for the good of the team, a sacrifice to the Basketball Gods at the tip of the tournament. No matter what you believe, Blue II will not go quietly. The drunken bastard will gnaw the hand off of any groundskeeper that tries to place him in a garbage bag and bury him.
A Butler insider says that they expect big things from Trip and for Butler fans to embrace him. "Everyone loves a puppy." And, it appears he's right. Butler's Feb. 18 home game sold out at the announcement of Trip's impending introduction. Fans, alumni and students adored him. Blue II made a brief appearance before heading to Moe and Johnny's and ending up at the bottom of a bottle of Beam Eight Star. "We've got special plans for Blue II as well," noted the insider. A grim foreshadowing.
Butler officials dispute all the above rumors, saying, "Having Trip on hand now means he will learn from the best and be fully prepared for the day when he officially takes the reins as Butler's 'Top Dawg.'" Just propaganda to save face by Butler higher-ups, secretly shoving their dignity aside for a greater good. A disgraceful ending to a tragic mascot.
Story by Kay Anderson