Matt Howard Out Indefinitely With Zombieism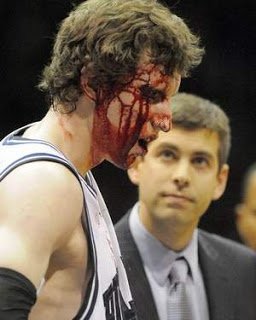 Butler Forward, Matt Howard, was forced to sit during last night's win over Wright State. Howard had suffered from a light case of Zombieism during the previous game. Coaches became aware of the condition during Butler's match with the University of Illinois-Chicago.
"Matt was boxing out on the defensive end and when time was called we noticed him gnawing on a UIC player's shoulder," Butler coach Brad Stevens said. "Before the game Matt's head had some blood oozing out of it, there might have been some brain matter mixed in there, but there was no way to confirm he was craving flesh. We let him play until he became bitey."
Stevens hopes the undead junior will rejoin the starting line-up soon.
Highway to Heaven, Heee's on it
Ladies and Gentlemen start your grieving. After a prolonged battle with life, Tom Carnegie finally succumbed to a severe case of old age. The Motor Speedway legend is dead at 91, a sad new track record.
Reporting by C. Bommarito, Dudley Dawson & Hate Nurst