Colts injuries continue to pile up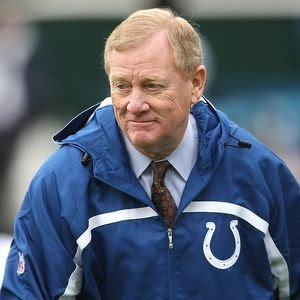 Last week the Indianapolis Colts received more bad news on the injury front. The team announced that Dallas Clark, Joseph Addai, Anthony Johnson, and Austin Collie are all out indefinitely leaving them very depleted. Today, they added two more to their ever expanding injury list.
"Unfortunately today we have to announce we've lost two other key contributers to our club indefintitely", says Team President Bill Polian, "Gary Treadwell and Linda Davis have sustained injuries that will keep them from performing their duties."
Treadwell, the team's lead janitor, suffered a concussion and minor ACL tear while mopping the entry way at the 56th street practice facility. Davis, the team's backup accounting secretary received 17 stitches and sustained a broken collarbone in a freak pencil sharpening accident. The Colts are holding roster spots for both in hopes they will be able to return at the end of the season. However, ESPN's Adam Schefter reports that both have sustained season ending injuries and won't be back until next year.
Purdue stars to stay committed to each other
Two weeks ago the Purdue Boilermaker Men's basketball team suffered a huge blow with the loss of Robbie Hummel. Hummel will miss the entire season after suffering his second ACL tear. At the time it reduced the number of major Purdue stars to two with E'Twaan Moore and JaJuan Johnson. This week, the Boilers announced some news that could get fans excited for next year.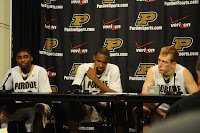 "We still have the ability to be a very good team this year", says Purdue Coach Matt Painter, "but there is a way we could be a great team next year. That's why we've decided to let Moore and Johnson injure themselves at the next practice."
In order to reunite with Hummel, Johnson and Moore have agreed to have their ACL's torn so they too will get a medical redshirt and sit out this year. All three will heal and be ready to go for next year. Even with the added injury, both Moore and Johnson are on track for a career in the NBA. Because of two ACL injuries and a back injury, that may not be the case for Hummel. However, Mel Kiper Jr. reports that his injuries have the Indianapolis Colts very interested and may use a late draft pick to add him to their receiving corp.
James Harrison decides NFL paycheck isn't so bad
Earlier this week Pittsburgh Steelers linebacker James Harrison left the team temporarily and contemplated retirement. His exit from the team was due to the NFL deciding that it will start enforcing the 'leading with the helmet' rule that cracks down on dirty players. Harrison, who has openly admitted that he loves to hurt people, felt the NFL was trying to single him out and on Monday decided he would no longer tolerate the league's unfair treatment of him.
After approximately 20 minutes of weighing his options and examining the employment landscape that he would qualify for, Harrison has rejoined the team and will suit up against the Miami Dolphins this Sunday.
As it turns out his only options outside of football, White Castle counter boy and dishwasher at Denny's, didn't pay quite as well.